PREMIUM QUALITY LOBSTER, EVERY TIME
NETUNO sources and distributes warm water lobster from a variety of carefully selected suppliers that all follow our strict quality standards and guidelines. No matter the origin, we work together with our lobster suppliers to ensure consistency across the entire supply chain. From the catch and processing to the packaging and delivery, you can be assured that our lobster is the highest grade and quality, regardless of origin. It's not the origin, it's NETUNO.
ROCK LOBSTER TAIL
Our tails are of the highest grade and quality. We flash-freeze them at the source, a critical step in the process to preserve taste, texture, and appearance, so they're just as fresh as the day they were caught!
ROCK LOBSTER WHOLE
Similar to our Lobster Tails, our Whole Lobsters are of the highest quality and sea frozen within a couple of hours of being harvested off the coast of Honduras.
"You get what you pay for" can be misleading when suppliers use additives in their meat to soak up water prior to freezing. This practice called "soaking" or "glazing" adds weight to their items and can be an expensive mistake for buyers when purchasing high market value items, such as lobster tails. Once thawed, that water disappears, leaving you with less meat than you purchased. Our Lobsters are sodium tripolyphosphate free, so you really do get what you pay for. That's a NETUNO promise.
How To Spot The Difference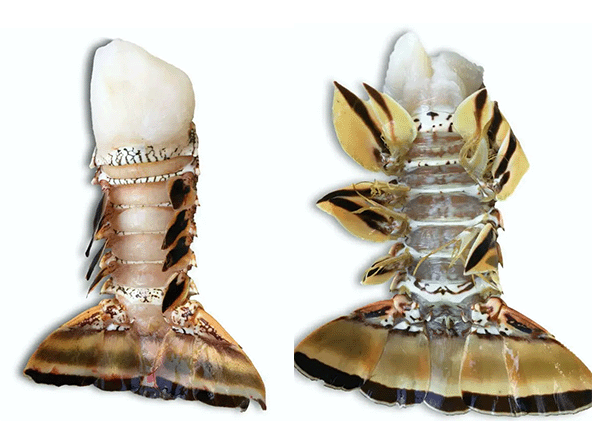 Treated Lobster compared to the Natural Lobster. Notice that the underside looks swollen (left), the underside is flat (right).
To help you make an educated choice, take a look at these comparison images. One lobster looks overly plump. This is an indication of soaked or chemically treated lobster. This larger, whiter lobster may also look more attractive to the unaware buyer, however, raw lobster meat varies in color from white, grey, to even orange depending on their diet. Lobster shell also varies in color due to the depths of the water it lived in. Shallow water lobsters tend to have a lighter color shell from the sun, where lobster caught in deeper waters tend to be darker.
All meat will turn white when cooked and has the same flavor profile. All shells typically turn bright red when cooked. The color of the lobster when raw has no effect on your customer's experience. Take a closer look at the following images. These images show the underside of the same two lobsters. You'll notice the underside of the first lobster looks swollen. The second image shows the underside is flat. These are key indicators to help you determine the quality of the lobster you are buying.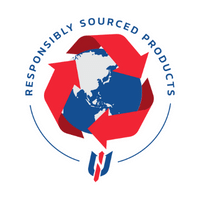 Hours
Monday: 9am – 5:00pm
Tuesday: 9am – 5:00pm
Wednesday: 9am – 5:00pm
Thursday: 9am – 5:00pm
Friday: 9am – 5:00pm
S & S: Closed
Address
511 SE 5th Ave Ste # 103/104
Fort. Lauderdale, FL. 33301